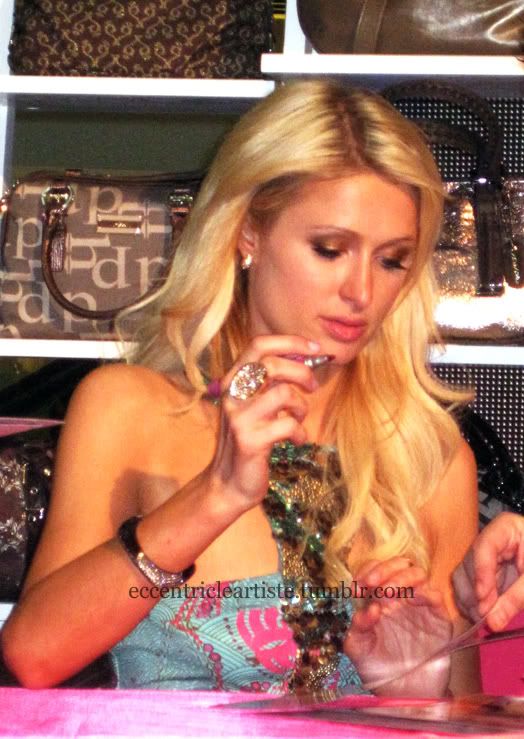 When in Manila, foreign performers and personalities see to it that they learn certain Tagalog phrases such as "Mabuhay" and "Mahal ko kayo" to further reach out to the Filipino people especially if they don't exactly appeal to the masses. Hotel heiress Paris Hilton made sure she mastered them both. The socialite and paparazzi-favorite held an exclusive meet and greet session for some f her fans and the press in SM Megamall Atrium last Thursday, August 18. She surprisingly arrived on time with an entourage of guards on her way to The Kebab Factory before gracing us with her presence.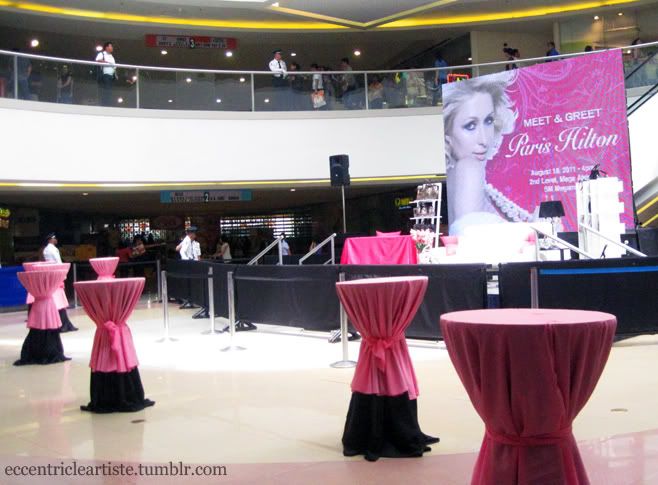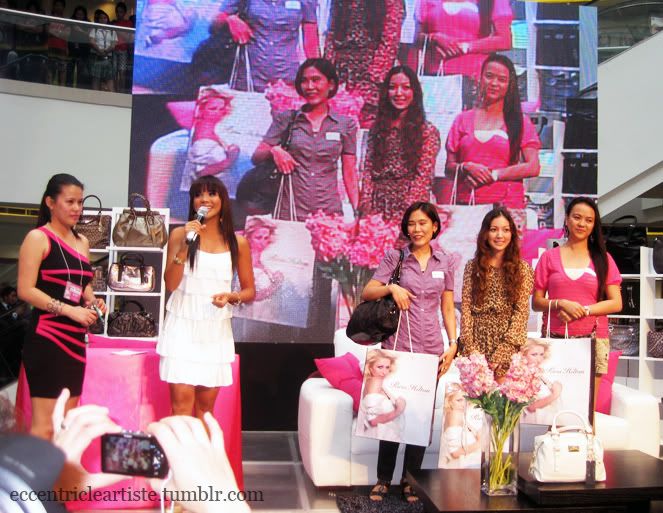 This is how the venue looked like 3 hours before it started. Minute by minute it got surrounded by fans hoping to catch a glimpse of the hotel heiress. Some local celebrities were there early, too. When the press started setting up, the crowd began to fill up the railings from all floors while the VIPs registered to get in.
The Paris Hilton handbags and accessories store has its 4th branch in SM Megamall where Paris Hilton personally attended the ribbon-cutting. Bags bought from August 15-18 entitled people to the meet and greet session where they had a chance to be part of the fancy get-together arranged by SM Megamall. During the event, some bags were raffled off to 3 lucky fans who bought a bag to get in.
Even if headed to LA that night, Hilton agreed to sign some of her VIP fans' memorabilia and in return, her fans gave her small tokens. Eventologist and event host Tim Yap gave her a Blackberry phone with a Philippine flag, a man brought in a handcrafted portrait of her and other fans had their own gifts for the celebrity. Overall, her 5-day business trip gave her a chance to show appreciation for her Filipino fans while accomplishing anther business venture.
–  
–
Paris admitted that she loves it here in Manila and I quote:
I'm gonna miss Manila and everybody, and I wanna thank everyone so much for coming again, you guys have made me feel so loved and it really means so much. I wish that I could sign for everybody in here and take pictures with everyone but I have to go on a plane... Promise I'll be back. I love you.
After giving her final message, she turns around and poses for everyone. This is one of her signature poses, the flying kiss.
Filipinos are generally warm people so a note to both foreign celebrities and tourists, pack an extra heart if you wish to visit the Philippines because when in Manila, you're sure to get assistance fit for an heiress.
[fb_instant_article_ad_01]?