Amo Yamie Crib: Coffee And Movie House in Pampanga – Experience Happily Ever After
I was only in a reverie of hanging out in a cute place where there are books, movies, coffee and good company. To my delight, I've heard about this beautiful cafe and movie house in one – something that's quite new in Pampanga. Being a total junkie for beautiful coffee shops, I knew I had to see and experience Amo Yamie Crib for myself.
Colourful set-up, whimsical displays, decors with customised touches – it's as if I was in a playhouse especially designed for adults. With all the cute interiors here and there, I felt like I was cozying up inside a surreal doll house with friends during my stay, lounging around and feeling like home. Amo Yamie Crib is definitely the right place to go to during couch potato days, I must say.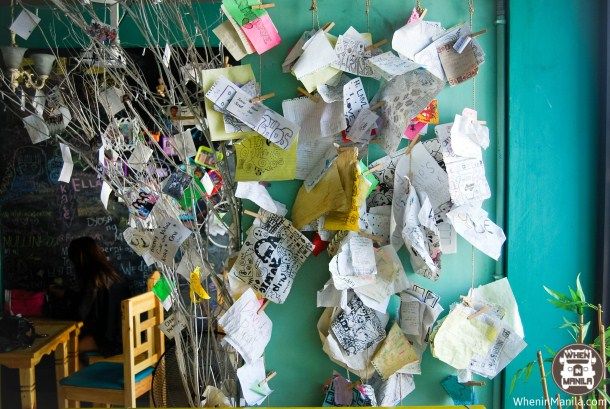 (AYC isn't just a fancy restaurant. It was conceptualized for their customers, hence this faux tree display which clenches various handwritten messages, doodles, photos and whatnot from "cribbers", as they fondly call their customers. )
The owner behind the most talked about crib in Pampanga was inspired by dollhouses during her childhood, thus the coffee shop's fairytale-like design. Her fascination then turned into a dream she wanted to pursue and luckily enough, the family shared their creative inputs in sum, successfully turning their dream comfort place into everyone's cozy hangout – Amo Yamie Crib, which literal translates to Love, Delicious, Home. Just shortly after their launch in 2012, the Crib now has its second branch in San Fernando, Pampanga.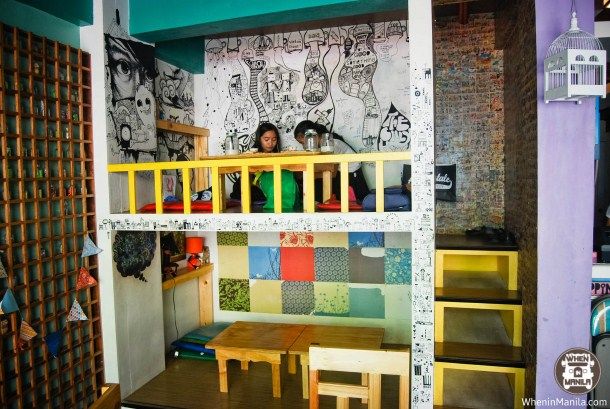 (Fun fact: Amo Yamie also means "Amoy Yummy", or smells delicious. I couldn't agree more! :))
My favorite spot is this mezzanine that welcomes you with a mini staircase designed with excerpts from Archie's comics, which looks very entertaining to the eyes. By the looks of it, one can say it's an adorable spot to stay at with your girlfriends while chitchatting and sipping on AYC's must-try milkshakes. Fun fact: some of their section's names are inspired by fairytales – Snow White's Secret Room, Neverland and Tinkerbell's Den, among others.
Amo Yamie Crib's  "Beautiful"  Food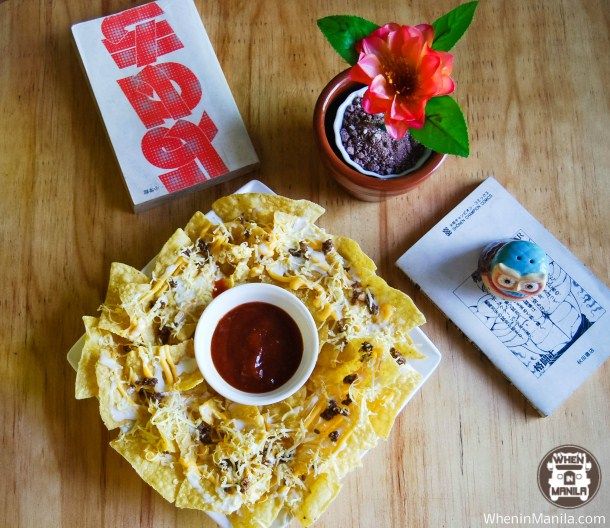 As if the fancy interiors weren't enough; their food joins the vibe, too. From their creative names to their fancy presentation, a lot of "wows" and "OMGs" might have been blurted out, and bountiful Instagram-worthy photos were captured, as well.
(Served in mason jars, their frappes, frosts and milk teas look very appetizing.)
You totally get your money's worth, too. We had their bestsellers: Nutty and Nice Frost (which is basically comprised of nuts and a crispy waffle on top); Potted Milk Tea (Milk tea topped with crushed Oreos) and Snow White with Special Sauce (which has a unique taste brought by its special ingredient). Each drink really serves true to its name. You can taste the presence of the ingredients individually, but more importantly, they jive well altogether. If you wanna have a total sweets overload, try their Banapple, a waffle surprise topped with banana, apple and peanut butter and drizzled with candy sprinkles.
[fb_instant_article_ad_01]?