With the success that Parasite saw at this year's awards season, it's no surprise that studios are jumping at the chance to work with director Bong Joon Ho. The first of those lucky studios is HBO who recently acquired the rights to adapt the film into a miniseries for their Western audience.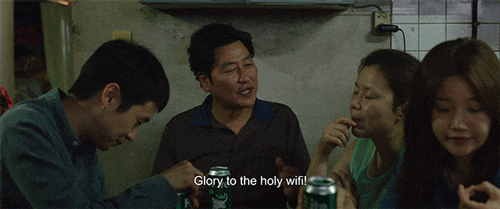 (A 'Parasite' Miniseries is In the Works)
Just to make it clear, this adaptation will not be a reboot or a remake of the critically-acclaimed film. It's actually more of an expansion of the Parasite universe, according to Bong himself. And never fear, Bong will be teaming up with director Adam McKay to create the series for HBO.
"When I think of a limited series, I really think of it as an expanded film. Like Ingmar Bergman's 'Fanny and Alexander,' you have a three-hour theatrical version and a three-hour TV version. So my goal is to create a high quality an expanded version of 'Parasite,'" Bong explained to Variety.
"I had all these key ideas accumulated from when I started writing the script. I just couldn't include all those ideas in the two-hour running time of the film, so they're all stored in my iPad and my goal with this limited series is to create a six-hour-long film."
And rumor has it that Mark Ruffalo may just be starring in Bong's vision of a six-hour-long film.
As usual, Mark was unable to keep his lips sealed and slipped a hint during an interview with Comicbook.com. He mentioned that he was approached to play 'the father' which many assume to be Song Kang-ho's Kim Ki-taek.
"We've met. I love him [Bong Joon-ho], I love that movie," Ruffalo shared. "I might be playing the father in Parasite on a television show. I would love to do it. We're sort of waiting on the script and all that, but yeah, that's pretty much true and in the works."
What do you think about this?
Do you have a story for the WhenInManila.com Team? Email us at story.wheninmanila@gmail.com or send us a direct message at WhenInManila.com Facebook Page. Interact with the team and join the WhenInManila.com Community at WIM Squad!
[fb_instant_article_ad_01]?