Akai Nori: Japanese Cuisine Inspired Rice Burgers
WHEN IN MANILA, you'll find yourself gastronomically stimulated by the wide array of distinct and mouth-watering dishes around. It's amazing how the Filipino's flair for creating fresh cuisine never ends. I'm sure you've heard of burgers or in other words, a quarter to a half-pound of evil tucked between two hefty slices of bread but have you heard of Japanese rice burgers?
Founded by five Entrepreneurship students from the De La Salle University, Akai Nori rises not only as a nutritious but a flavorful Japanese inspired cuisine that aims to deliver high quality rice burgers to suit the Filipino palette. Catered to the more health-conscious market, it offers a menu made with prime ingredients that promotes healthy living.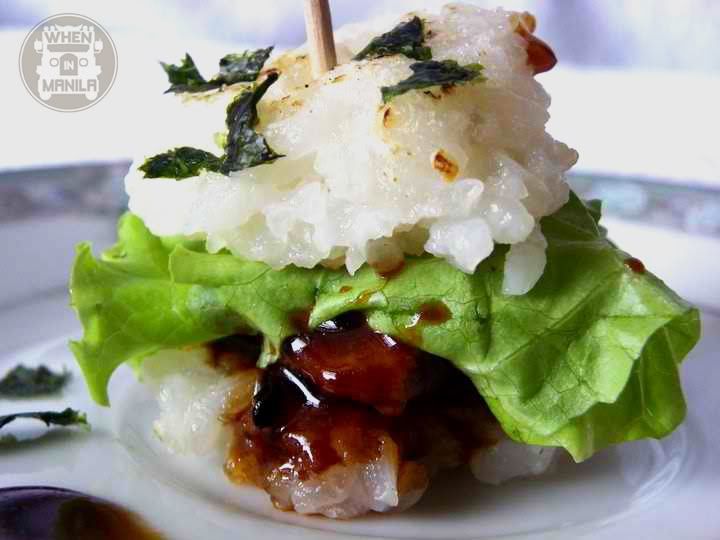 Akai Nori's Teriyaki Chicken Burger
Its bestseller and my personal favorite Signature Salmon consists of salmon fillets, topped with caramelized onions, bean sprouts, and Akai Nori's special sauce—Yum! They also have Yakiniku Beef, which has sukiyaki beef marinated in home made Yakiniku sauce, and Teriyaki Chicken with roasted chicken breast fillets in Terriyaki sauce, that are equally as appetizing.
Akai Nori Spicy Tuna Fried Rice
What started as a school project turned out to be a promising business for these aspiring youngsters who shared the same passion for food. They have provided catering for companies such as Dickies and Taipan. They take pride in using eco-friendly packaging and sponsoring the recently held event Run for a Cause where they supplied more than 400 orders of Spicy Tuna Fried Rice, which is yet another one of their flavorful creations.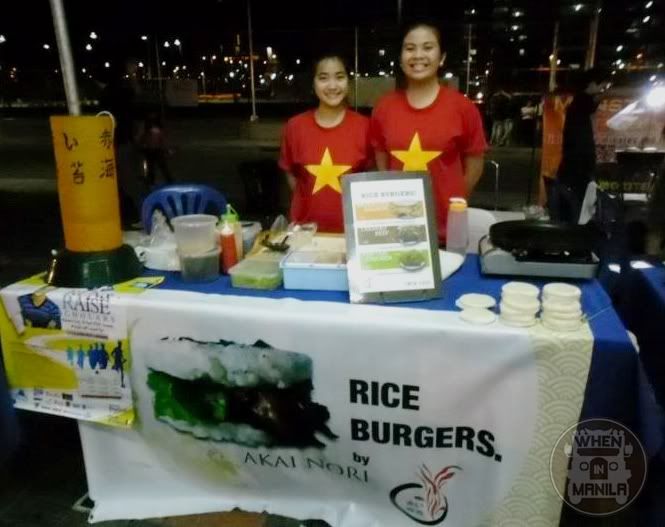 Camille and Jezzele at the  Akai Nori Mercato Stall
As a student, I'm always searching for hunger satisfying yet reasonably priced meals to keep my tummy happy. Yes, 120 pesos is a bit off my daily food budget but it's worth a try! You can find Akai Nori grilling at Mercato Centrale from 10 pm to 2 am every Fridays and Saturdays.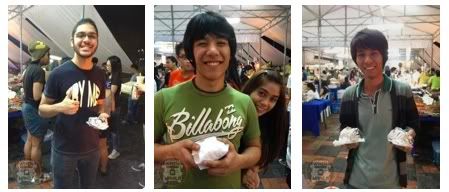 Satisfied Customers of Akai Nori

WHEN IN MANILA, and craving for healthy Japanese inspired rice burgers, don't forget to visit Akai Nori!
Akai Nori
For more information,check out their website

For recent updates, visit their Facebook fan page and Follow them on Twitter

Akai Nori: Japanese Cuisine Inspired Rice Burgers
[fb_instant_article_ad_01]?