Although 2018 wasn't the first time we ever had progressive Asian representation in the media—we've had Lucy Liu and "Joy Luck Club" from the past years, to name a few—what makes 2018 so special is the breadth and depth of these opportunities.
This 2018, we saw Asians making a name for themselves in media. Whether it was through acting, directing, writing, modeling, Asian talent shined through and set a path for others to follow. The success of these stories and these individuals go to show the rest of the world that we Asians are something to watch out for. Check out our list below to see what I mean!
10. The "Crazy Rich Asians" Cast
Let's appreciate the impact of a movie like Crazy Rich Asians having an all-Asian cast…in Hollywood. This is a remarkable feat, especially when most Asians continue to be typecast or assigned stereotypical roles.
And this cast continues to break barriers outside the confines of this film: Henry Golding was the first Asian to grace the cover of GQ's Men of the Year issue, Awkwafina was only the second Asian woman ever to host "Saturday Night Live", and Constance Wu earned a Golden Globe nomination for 'Best Lead Actress' — a feat that hasn't been achieved by an Asian woman in 44 years.
(Related: A sequel to the "Crazy Rich Asians" movie is already in the works!)
9. Jameela Jamil
This actress might sport a British accent and might have grown up in England, but don't let that distract from the narrative she is setting for South Asian actors everywhere. Having experienced bullying and hate on the basis of her skin color and ethnicity, Jamil's importance transcends the fame she's gained through her spot in "The Good Place". Her advocacy of body positivity and self-love rings strongly at a time where opportunities are denied to those deemed "too dark" or "too Asian".
Embrace thine stretch marks. They are nothing to be ashamed of or cover up or edit out. ❤️ #saynotoairbrushing #letabitchlive pic.twitter.com/gtKwbQiTnL

— Jameela Jamil (@jameelajamil) October 23, 2018
8. Sandra Oh
Let's be real, Sandra Oh has been kicking ass for the Asian community ever since her days on "Grey's Anatomy" as Cristina Yang, or even before that. But it's about time that the rest of Hollywood began appreciating her too. This year she made history as the first Asian to ever be nominated for an Emmy in the 'Lead Actress in a Drama Series' category. Her role in the series she was nominated for ("Killing Eve") was significant on its own since Asians are not usually cast as leads in Drama series. The cherry on top of the cake is her being asked to host the 2019 Golden Globes alongside Andy Samberg.
7.  Pinay Power: Kelsey Merritt & Justine Biticon
There has always been this shadow of doubt when we talk about Filipinos in the modeling industry. Structural barriers and inherent biases against 'different' features really do make a career in modeling an uphill battle. Models like Kelsey Merritt and Justine Biticon who are now making waves on runways and magazine covers are starting to change that. Not only do they show kids growing up that they can do this too, but they're also the ones giving them that opportunity. Their presence in itself sets a trend for how casting directors, magazine editors, and brands ought to appreciate Filipino beauty.
(Related: What does it mean to be a Filipina?)
6. To All The Boys I've Loved Before
The reason this romcom is so important is not just because of its diversity, but what it means for this genre to be getting such varied representation. Representation in itself is valuable because it outlines reality, and pushes those who were invisible into the spotlight. Representation in niche genres like Western romantic comedies shows that there is a place for them in every kind of story and every kind of role. What "To All The Boys I've Loved Before" did was tell audiences that Asians don't have to be put inside some kind of box when you're writing, directing, or playing them.
(Related: Lana Condor and Noah Centineo Confirm the Sequel to 'To All the Boys I've Loved Before')
5. John Cho
When we talk about media representation, it's not just Hollywood that's important. John Cho made quite the impression at this year's Sundance. After a succession of sidekick roles, this always-the-bridesmaid-but-never-the-bride actor finally got his starring role in "Searching". He is the first Asian to star in a Thriller, and one of critical acclaim at that. Like he said to Vanity Fair:
"What is meaningful to me is seeing the image of a whole, loving Asian-American family [more] than anything else […] I want the future to be where it's completely normal to see an Asian-American family on-screen."
4. Catriona Gray
There's no way we could leave Miss Universe out of this list. It may not be uncommon for Asians to bag the crown but that doesn't diminish the significance of the feat. Catriona Gray becoming the fourth Filipina to become Miss Universe is an opportunity to show the world what the essence of Filipino culture is and what Filipinos are capable of. Like Pia Wurtzbach before her, she can make use of this platform to go beyond notions of fame and beauty in order to make a difference with her advocacies.
3. Priyanka Chopra
A lot of people joke about her as "Nick Jonas' wife" but I think it's time to go beyond that to see the landmarks she's set up for Asians this year. Starring in ABC's "Quantico", Priyanka Chopra breaks the glass ceiling of roles which are 'appropriate' for Asian women as a special agent. This falls in line with her advocacy of better representation in the media. Unlike other actors who choose to 'work with the system', Chopra has always been vocal about demanding better roles for Asians. She is one of the first strong forces who is not afraid to actively ask for Hollywood to be better.
2. Cathy Yan
This name may not be as familiar as others on the list, but that doesn't make her any less important. Cathy Yan is set to direct the upcoming Harley Quinn movie, which will focus on the all-girl group "Birds of Prey". She landed the amazing opportunity to be the first Asian woman to direct a superhero film after her debut film earned the World Cinema Special Jury Prize in 2017's Sundance. Leading the creative direction of the movie likely points to the incorporation of Asian influence too. Moreso because it's set to feature part-Asian, Cassandra Cain.
1. K-Pop
I'm not even going to try to name a particularly influential group this year because I know that's just going to lead to arguments. Instead, we should appreciate the immense popularity that K-pop as a genre gained this year. It broke into the mainstream and basically became a global phenomenon. In doing so, it defeated negative ideas that K-pop can only be as good as a  'guilty pleasure'.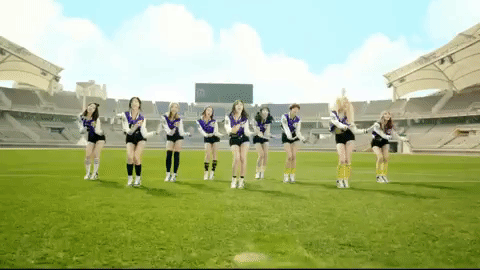 *This list was made in no particular order 
Did we miss anything on the list? Let us know in the comments!
[fb_instant_article_ad_01]?