I can count how many times I've been to Marikina on one hand,  and four out of those five trips have been all about food. (The other one was a field trip to a shoe museum, which houses the biggest collection of leather shoes I've ever seen.)
These last few years, I saw myself frequenting the area looking for cool restaurants that serve good food, and it never disappoints. The city has slowly turned into a food district featuring innovative food concepts and impressive establishment designs.
I recently stumbled upon Beeffalo, a rustic homestyle restaurant situated towards the end of the Mayor Gil Fernando Avenue. The restaurant is totally off the beaten track, yet it was jam-packed with families and friends enjoying their meals when we got there – and I can totally understand why.
The homey ranch vibe makes you feel like you're just visiting your cousins in the suburbs to hangout while your aunties make a generous spread of American comfort food that's well worth the road trip. The tables are covered with table cloths, the big dining couch is so soft (it sinks when you sit!), and the room is peppered with conversation-starter vintage items.
Aside from the usual dining setup, this rustic homestyle restaurant also caters to birthdays, get-togethers, and sometimes, even sweet wedding proposals! The management and the crew are totally game to help you with any gimmicks to surprise your loved ones!
For your food trip, they offer American staples on the menu with a few Filipino twists here and there. Beeffalo features ribs, barbecue, and fried chicken, as well as burgers, fries, and pizza.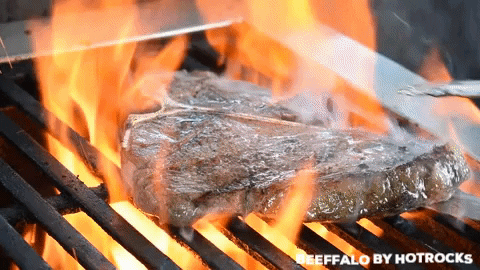 They also let you experience a truly authentic American backyard grill and dine at night, too, where the chef of Beeffalo by Hotrocks grills your steaks outdoors as you order.
Here are some of my top food picks:
Margherita Pizza (Php210)
The paper thin crust pizza is spot on. It's simple and direct to the point, yet also delicate to the taste.
Pair it with their meaty loaded fries (Php195) – perfect!
Next on the list is one of their 999 Platter meals!
Ours was composed of barbecue, juicy ribs, fried chicken, and a side of mashed potatoes, veggies and four coolers! Talk about value your money. A must-order!
To satisfy our thirst, we had a White Zinfandel, which is kind of like a rose, but sweeter, pinker, and a little dry. If summer had an alcoholic counterpart, this would be it!
Sizzling Beef Ribs in Tamarind Gravy (Php395)
Oh my God! I cannot emphasize this enough: THIS DISH IS PURE GENIUS. The meat is perfectly tender and the sinigang soup turned into gravy is HEAVEN! It has a very familiar taste, yet it's definitely on a whole different level!
Red Velvet Cake – Php130
BONUS: Beeffalo recently partnered with Sweet Butter Bakery + Cafe for their coffees and cakes. This red velvet cake is to die for!
Beeffalo by Hotrocks is definitely worth the drive and I would love to bring my family here sometime.
(ALSO READ: Here's Where You Can Recharge and Have a Good Spa Session in Marikina)
IV of Spades once visited the place, too!
Beeffalo by HotRocks
Lot 6, Block 3, Gil Fernando Avenue, Santo Nino, Marikina
Facebook: https://www.facebook.com/beeffalobyhotrocks
Instagram: @beeffalobyhotrocks
[fb_instant_article_ad_01]?