We believe that PALAWAN is one of the BEST ISLAND in the world and here are a few places we love to stay in when in Palawan:
WHERE TO STAY IN PUERTO PRINCESA, PALAWAN
ONE MANALO PLACE
"Only about 2 minutes from the Puerto Princesa airport.. Upon entering the lobby, what we saw instantly impressed us. Inspired by traditional yet classy Filipino design, One Manalo's interiors gives off the vibe of an upscale hotel experience, however not transporting you away from the charming island, Palawan vibe. It's a perfect balance of the two." – Nicole Villaluz
MUST TRY: Fried danggit
WHAT TO LOVE: In-house gym and proximity to restaurants, spas and bars.
Read more at https://www.wheninmanila.com/one-manalo-place-your-home-in-puerto-princesa
IPIL SUITES   www.ipilsuites.com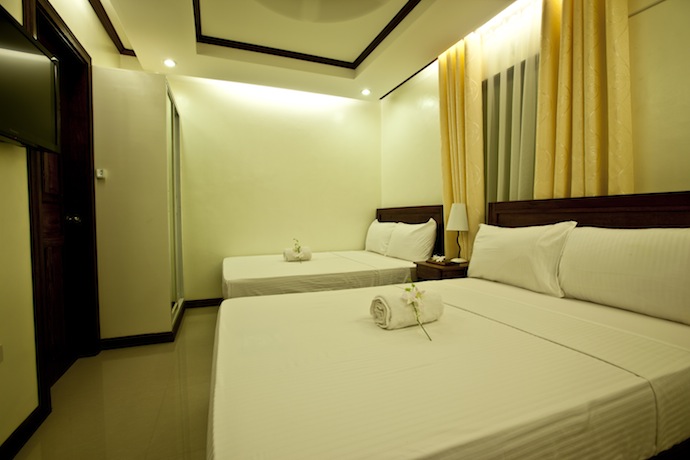 WHAT TO LOVE: 10 minutes walk away from Kinabuch, very affordable rates (as low as P1,500/night).
MUST TRY: Ipil Suite's special Shabu-Shabu
BLUE PALAWAN BEACH CLUB 
"At Blue, you step out and it's sand that greets your feet. And a light breeze from the sea that will be grazing your cheeks, as if a plea for you to throw caution to the wind. A kind reminder of what you are in Palawan for—a break from the concrete jungle that is the city, and the pretentiousness that sometimes goes along with it… In Blue Palawan, there is no space for negativity. Only positivity… Positivity that will continue to pour in as you meet new people, make friends, make memories. And you will. You will make friends here. With other guests. With the owners. With the people who cook the food, mix the drink, make the music. This will occur perhaps by the poolside bar, over deliciously sweet cocktails (or beer if that's your poison) while engaged in loud, hilarious conversations like you've all been friends for a while. Because that's the kind of place Blue is." – Nicole Villaluz
MUST TRY: Blue's LECHON KAWALI and Polvoron Cheesecake
WHAT TO LOVE: Chill vibe, swimming pool treated with ionized water instead of chlorine 
Read more at https://www.wheninmanila.com/blue-palawan-beach-club-a-wave-of-good-vibrations/ 
SHERIDAN BEACH RESORT AND SPA
"They've got everything you need for the ultimate Puerto Princesa getaway experience." – Mariel Abanes
WHAT TO LOVE: Longest pool in Palawan, Sheridan Beach Resort is only 15 minutes away from the Underground River, Sheridan is an all-in vacation for family, friends, etc.
Read more at:
https://www.wheninmanila.com/10-reasons-why-we-love-sheridan-beach-resort-and-spa-palawan/
https://www.wheninmanila.com/sheridan-beach-resort-and-spa-can-make-your-dream-wedding-come-true/ 
CLICK ON NEXT PAGE to know where to stay in Coron and El Nido
[fb_instant_article_ad_01]?