Words by Carinna Reyes
It's the rainy season again, and it's time to make meaning out of everyone's favorite textmate-slash-concerned lover. Nope, not your S.O. The NDRRMC. *Insert alarming NDRRMC message beep here*
The National Disaster Risk Reduction and Management Council (NDRRMC) is mandated by law under Republic Act 10639 to send warnings to all Filipinos in times of calamities. This is to help us prepare and take necessary action in case our cities would be affected by incoming typhoons.
But what do these startling, vibrating, and sometimes cryptic messages from NDRRMC mean? Here are a few terms and definitions from the PAG-ASA warning system that we can use to decipher these messages:
Rainfall Warnings
Yellow Warning
For Community Awareness
Forecast: flooding is possible in low-lying areas and near river channels
This is what happens when you wear your white sneakers outside and the universe decides to spite you just for fun
Orange Warning
Red Warning
For Community Response
Forecast: Severe flooding is expected. Take necessary precautionary measures
The movie 2012 has come to life. Mother nature is out to drive us all into extinction.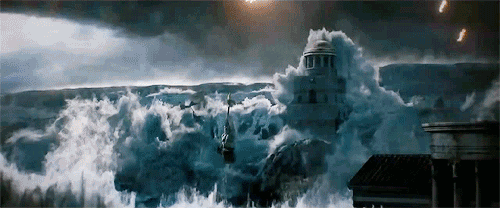 Tropical Cyclone Warnings
Got a text from NDRRMC saying a Signal No. 1 has been raised in your area? Here's what that means:
No damage to very light damage
Very light or no damage to high-risk structures; slight damage to some houses of very light materials
Keribells pa, push through ang gala
Signal No. 2
Light damage to moderate damage
Unshielded, old dilapidated schoolhouses, makeshift shanties, and other structures of light materials are partially damaged or unroofed
Hingi na ng suspension kay Ninong Erap
https://twitter.com/JohnyPandy/status/1028564849855422464
Signal No. 3
Moderate damage to heavy damage
Increasing damage to old, dilapidated residential structures and houses of light materials; some warehouses or bodega-type structures are unroofed
Time to tweet "pahinging cuddle buddy" while crying and watching Netflix
Signal No. 4
Heavy damage to very heavy damage
Many houses of medium-built materials are unroofed, some with collapsed walls, extensive damage to doors and windows; all signs/billboards are blown down
Your local 7 Eleven becomes a mini-hunger games arena, so bilisan mo or mauubusan ka ng cup noodles
Signal No. 5
Very heavy damage to widespread damage
Most residential and institutional buildings of mixed construction may be severely damaged; electrical power distribution and communication services are severely disrupted
Time to do walling and pretend you're in a music video as the internet is down and you're alone with your thoughts
ALSO READ: 5 Ways Millennials Can Help Build A Disaster-Ready Community
Need more info? You can read more in the official PAGASA website.
What do you think about the NDRRMC messages? Share your thoughts in the comments below!