When In Manila, you need to make it a point to catch the much-awaited encore performances of the hit musical dramedy Care Divas that starts this April 27, 2012 at OnStage at Greenbelt 1!
After 45 years, the Philippine Educational Theater Association (PETA) and Repertory Philippines finally collaborate on a project once again, bringing the insanely popular Care Divas back, and to the heart of Makati, no less! Makati has always been a Rep district, where they are known for famous Broadway and off Broadways productions. I was lucky enough to catch their production of Miong, a musical about the life of Andres Bonifacio (although still in English) a long time ago. PETA, on the other hand, produce mostly Tagalog shows, drawing in a different audience in Quezon City. But after the Makati crowd starting going all the way to Quezon City, clamoring for more of the Care Divas, interests piqued and the two theater giants came together to bring the show south. Rem Zamora, the Marketing Manager of Repertory Philippines, had trooped over to Quezon City last December to catch the last show and came out in tears, because of how poignant the performance was, and also from laughing way too hard. 
Care Divas is a disarmingly funny and candid musical that follows the lives of five transgender Overseas Filipino Workers in Israel – Chelsea (Melvin Lee), Shai (Vincent De Jesus), Kayla (Jerald Napoles), Thalia (Jason Barcial) and Jonee (Buddy Caramat) – who work as care givers during the day and transforming into glamorous drag queen performers come night fall. Although desperate to make ends meet, they still manage to send their hard earned wages to their loved ones in the Philippines, while struggling for acceptance in a foreign land where being gay is shunned upon, and during the Infantida (the Palestinian-Israeli conflict), no less. Packed with high energy dance numbers, titillating music, and the campy, slightly trashy sense of humor that can only the gays can pull off,  it becomes a visual feast of glitter, wigs and high heels, filled with lots fun, trials, and churvalations.
The play's side-splitting script was written by Palanca award-winning playwright, Liza Magtoto, who seamlessly strings together stories that are gut-wrenchingly true about OFWs over the lives of the main characters: the kind and loving Chelsea, the often-sarcastic group leader Shai, the ditsy Thalia, the bubbly Kayla and the ill-tempered Jonee. The creative team behind the hit production are multi-awarded composer, Vincent De Jesus; prolific director, Maribel Legarda; costume designer, John Abul; events and theater lighting designer, Jon Jon Villareal; visual artist and award-winning set designer, Leo Abaya; and contemporary dancer and choreographer, Carlon Matobato.
The play isn't just about glitter and gay speak, but also educates the audience about what OFWs go through in other countries, and how hard it is for the gay community. You cannot help but empathize with all the characters as you see how they feel for getting discriminated at for being gay, how children are treated as cash cows once they find a job abroad, how OFWs are abused, not justy by their employers, but by their family, but more importantly, how important it is to be resilient by having a positive outlook on life no matter what the circumstances, and always bounce back. As Maribel Legarda mentioned during an interview, "This production is more than just a gay play for me. It is a story of migration and how dark, dirty, and dangerous work that is encountered by a majority of overseas Filipino workers can, in the hands of a resilient and loving people, be turned into a life filled with camaraderie, adventure, and passion for life."
For the sake of Philippine theater enthusiasts, we all hope that this is the beautiful beginning of more project tie ups between Repertory Philippines and PETA!
When In Manila, watch Care Divas at Greenbelt Onstage this April 27 (8:00PM) 28 & 29 (3:00PM & 8:00PM), 2012. For inquiries and ticket reservations, contact PETA Marketing and Public Relations Office at Tel. No. 725-6244, 410-0821 or 0917-5765400, petatheater@gmail.com.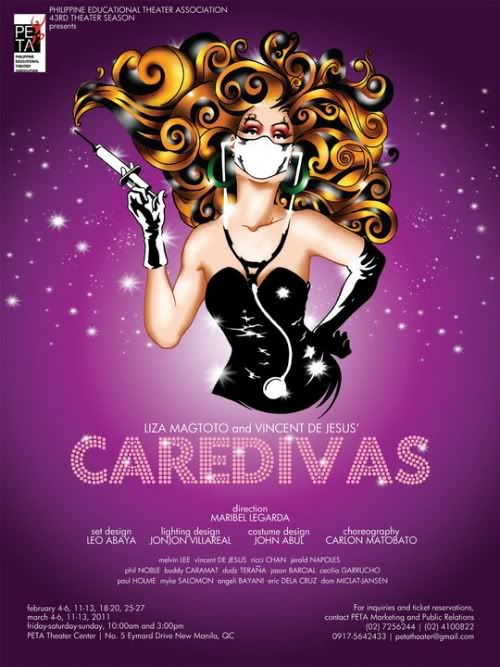 Care Divas Come to OnStage at Greenbelt 1
[fb_instant_article_ad_01]?