Article by Gleeselle Rosales (@gleerosales) / Photos by Deina Ida Blancaflor (@disblancaflor) / Graphics by Verna Sevilla
It can't get any better than this:
Option A – grilled shredded meat, fresh tomatoes, crunchy cucumber, topped with smoked cream cheese wrapped in a blanket of warm pita bread
or
Option B – grilled skewered chicken and beef, drenched in special garlic sauce with savory buttered rice on the side.
Let's not waste time and get both instead! Take if from Iron Man himself.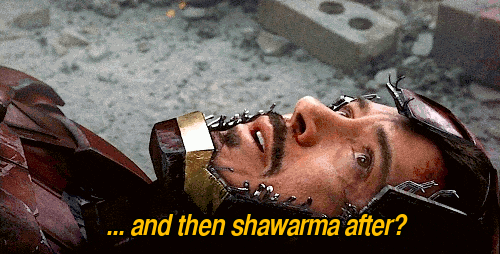 Uncle Moe's Shawarma Hub offers ten years of quality Middle Eastern and Mediterranean cuisine dishes that cater to people from all walks of life. What started out as a venture to rent a spot in CityGolf (its first branch!), continued on to be a family business. After all, the "Moe" in Uncle Moe's is their pet dog!
August Martinez, the man behind the crowd-favorite Shawarma hub, drew inspiration from the iconic Halal Guys in the concrete jungle that is New York City. Ten years later, that eureka moment at the longest food cart line in NYC is not forgotten.
A true lover of the stacked, grilled meat concept himself, August is hands-on in the business, which has led to many opportunities to branch out and bring the shawarma goodness to different places like Citygolf, Kapitolyo, Malingap, Aguirre St. BF, F7 Rallos, Crave Park Mkna, SM Light Mall, Tuscany Mckinley Hills, and most recently, Holy Spirit Drive, Don Antonio Heights. There is also the Uncle Moe's Shawarma Express in Recess Food Alley, which has student-friendly prices for the schools nearby.
(READ: 9 Songs That Should Be on Your Student Playlist)
Over time, the menu has become a testament to the longstanding promise of quality spice-infused meat and an overall hearty meal. Get your shawarma fix – right here, right now!
Take your pick. Choose from the different dips (left to right) Moutabal, Tapenade, Hummus, Pita
Kebab Platter (2 sticks chicken, 2 sticks beef), buttered rice, salsa – Php188
Not one but two kinds of meat to satisfy your cravings any time of the day! Oh, and that buttered rice? Glorious.
Oxbrain – Php140
Brains? Try if you want to taste something different!
Kofta Balls – Php210
Fan favorite. These meatballs are oozing with cheese and swimming in sweet tomato sauce.
Moussaka Melt – Php157
Paired with pita, a rendition of the Italian lasagna.
Chicken Manakeesh – Php147
Cheesy and meaty on the inside, this dish screams "come and take a bite!" all over.
Beef Shawarma (Php129) and Chicken Shawarma (Php119)
Your usuals – only made better with that Uncle Moe's quality of meat and goodness of taste over the years.
At this point, which side are you on? Team Pita or Team Buttered Rice?
Uncle Moe's Shawarma Hub
Tuscany, Upper McKinley Road, McKinley Hill, Taguig
0927 854 9425 (McKinley Hill branch)
Facebook: https://www.facebook.com/UncleMoesShawarmaHub
Instagram: @unclemoesshawarma
[fb_instant_article_ad_01]?