If you just happen to be part of that subset of people who still obsessively rewatch The Devil Wears Prada every so often (like I am) then here's some good news for you: a musical adaptation of the iconic story is currently in the works. No production timeline or casting news has been announced as of yet, so we still have no idea when to expect what will (hopefully) be another great adaptation.
(WATCH: 90's romcom 'Clueless' has just become a musical!)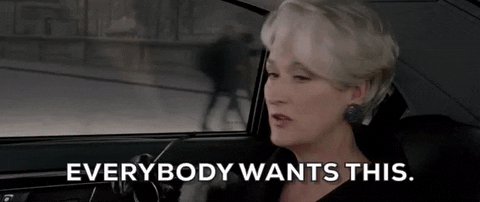 The Devil Wears Prada narrates the journey of Andy Sachs into the unexplored world of fashion and glamour. On her way to becoming a 'serious writer', she takes a position at elite fashion magazine Runway as Miranda Priestly's personal assistant. Learning to survive her boss' (sometimes) insane demands and merciless attitude pushes her to grow into her own.
(10 'Devil Wears Prada' Scenes We Hope Make It to the Musical)
Tony Award winner Anna D. Shapiro is set to direct the musical, which they hope to eventually move to Broadway. She is best known for her direction of August: Osage County. The musical will feature a book by Paul Rudnick, music by Elton John (!!) and lyrics by Shaina Taub.
It will be based on both Lauren Weisberger's book and the 2006 film (directed by David Frankel). Hopefully, this means the script will take certain liberties to give us a fresh version of the story. Several movie-turned-musicals have failed due to the very reason that they stick too closely to the screen version.
I know one thing I want to see is Andy's lame boyfriend finally getting what he deserves.
(OMG: 'The Notebook' is Being Turned into a Broadway Musical)
What do you think the musical can do to improve the story? 
[fb_instant_article_ad_01]?