The Honda Bay Puerto Prinsesa Island Tour will end at around 4 in the afternoon. You can take a rest, or buy pasalubong at this time! The van transfer to El Nido that I got will have its last trip at around 6:30pm. This is a 5 to 6hour drive and you'll be around 10-15pax inside the van. There will be a stop-over after a 3-hour drive, but I strongly suggest you tire yourself out before this trip, so you can just sleep it off since the roads will be too dark for sight-seeing at night. 
The El Nido Island Hopping Tours will start at around 9 in the morning. A trained and certified tour guide from Fort Wally fetched us at the hotel. El Nido is so beautiful. I can't find the right words that will justify it's beauty. TMI, but, I got teary-eyed while we're on our way to the first island! It's that beautiful!!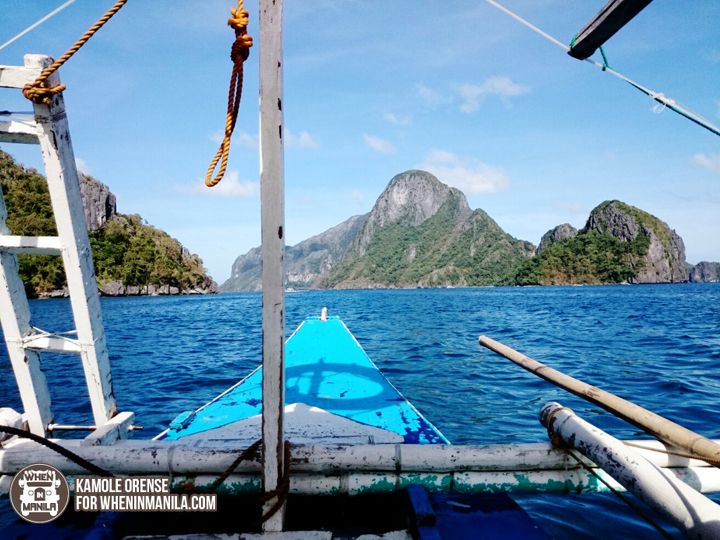 According to our funny and witty guide, Michael, the mountains are made with limestones and they grow up to an inch every year!
The water is very clear, the mountains are AMAZING, the sun and the wind are perfect. I swear you have to see this in person. The boat ride takes about 30-45mins per island but you'll never feel bored because everything that surrounds you is full of glory and greatness! Here are some of the islands that we visited:

Helicopter Island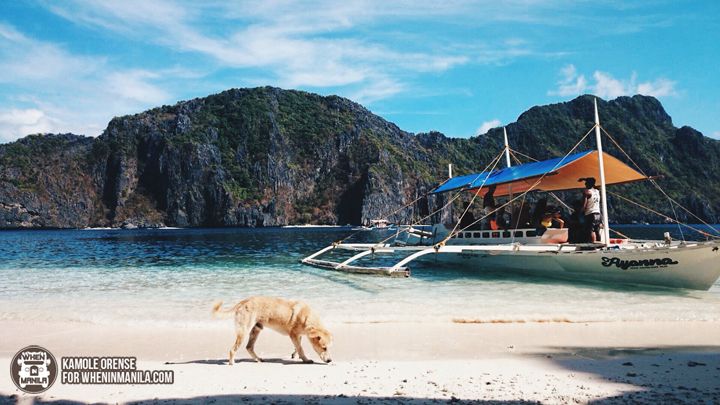 Matinloc Shrine (This is my favorite island because:
First, there are island dogs!
Second, we had lunch here! Still provided by Fort Wally, but our tour guide prepared and cooked this thing of a beauty. I already managed to take a picture and stop myself from devouring this immediately. :))
The presentation of the food was touching because we are only four in the tour, but still they really gave their best effort for the food presentation. And it's delicious, too! I <3 El Nido!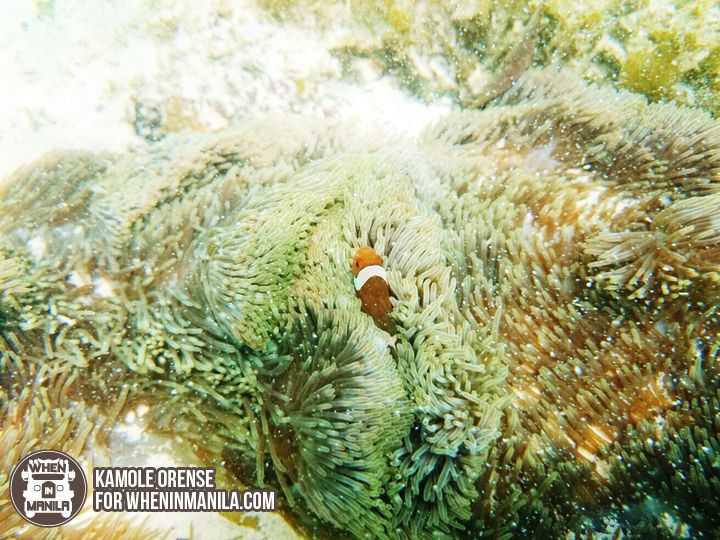 Third, because I think this is the best snorkling area! The corals are so near you can almost touch them. I pray that our seas will be more taken care of  because this is a sight that my grandkids in the far future should see!
Definitely A Whole New World Under The Sea! #DisneyMashUp. Got to meet Nemo in person, too!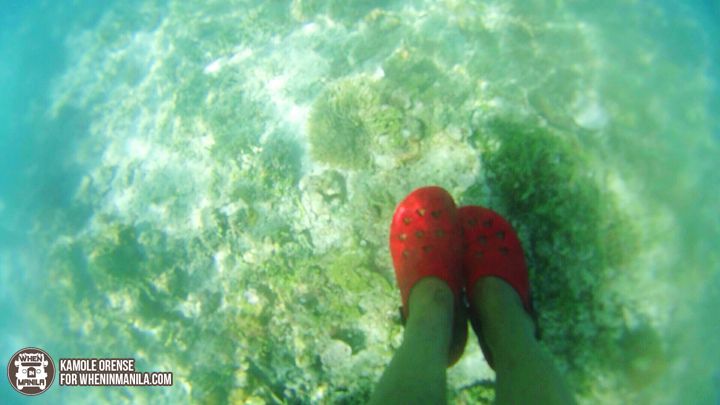 #ShoeSelfie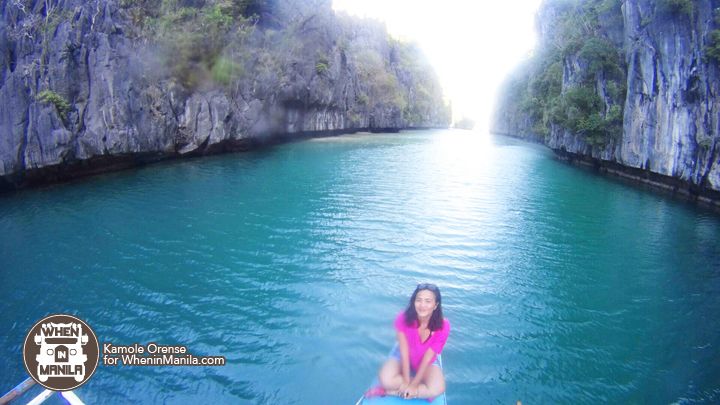 Big Lagoon
(We didn't get to swim here because the guide said there are a lot of stone fish and sea urchins in this area. I'm terrified with the stone fish because it's fatal and it hides under the sand so it's hard to distinguish if it's there! Ninja moves!!! HUHUHU)
We also got to see a Small Lagoon and Hidden Beach but sadly because of the crrrrrazzzy waves, we didn't manage to see everything else. On our sail back to the shore, the waves were still intense we got wet (not just wet wet, but wet as in soaked with water kind of wet!) inside the boat! I didn't worry though, because we saw this small reminder from Up Above that everything's going to be alright =)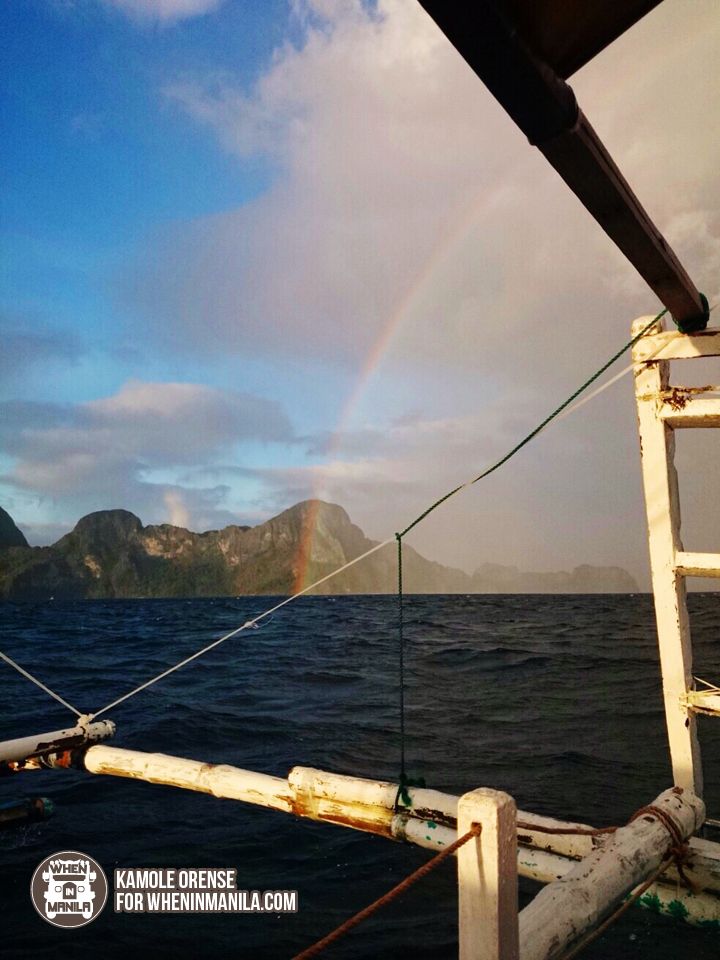 When I was younger, I was not a beach person. I never appreciated the sea. However, as I grew older, I realized how much I was missing. To be in the middle of something so big and magnificent is not just a sight to see, but a humbling experience. And this makes you focus more on the good things that this life can offer, no matter how big it is or how small.
At the end of my trip, I reflected that Palawan is also one of my physical encounters with the Almighty. I see Him in the roars of the sea, in the light of the sun, in the cool breeze of the wind, in the unique forms of each mountain and most especially, in all the people from Palawan that is always willing to give their best to make your day really count. 🙂 
We get to spend minutes, days, weeks, months or years doing the same things over and over again. But a day, or two, might be just what you need so you can see life in a different perspective again. 🙂
If you're planning to do the same 3-day trip like mine, here's my itinerary!
Day 01
09:00am – Arrival at Puerto Prinsesa Airpot
09:05am – Arrival at Fort Wally Office
09:30am – 04:00pm – Honda Bay Island Hopping Tour
04:00pm-06:30pm – Rest/Shopping
06:30pm-12:00MN – Van Trip to El Nido
Day 02
09:00am – 05:00pm – El Nido Island Hopping
06:00pm onwards -Rest/Bar Hopping
Day 03
05:00am – Van Trip back to Puerto Prinsesa Airport
11:00am- Check in at the Airport
(Since my flight was early the last day, I didn't get to make the most out of it. But in case your flight will still be in the afternoon or evening, you can check out other places in Puerto Prinsesa, Palawan!)
Check out this link as a guide: https://www.wheninmanila.com/top-ten-places-to-go-in-puerto-princesa-palawan/
  For more details regarding Island Tours, City Tours and Van Transfers you may call the kind and welcoming Evelyn Reyes of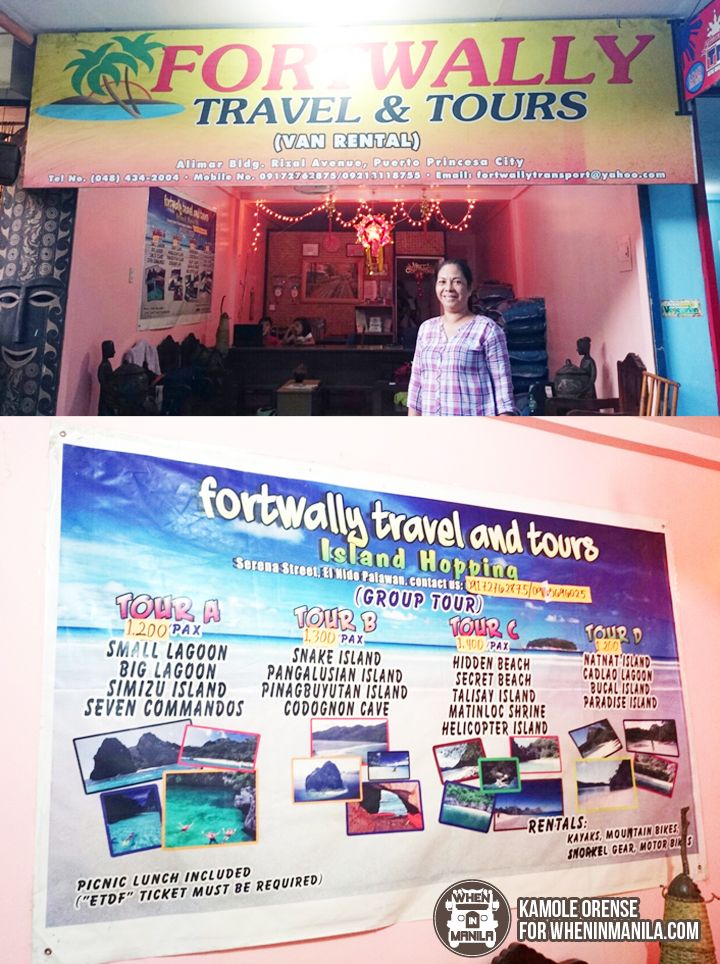 Fort Wally Travel and Tours
09165696025 / 09172762875
Check these links for more Palawan trippings:
https://www.wheninmanila.com/discover-the-magnificence-and-splendor-of-apulit-island-resort-in-palawan/
https://www.wheninmanila.com/amanpulo-resort-palawan-paradise-in-the-philippines/
Puerto Prinsesa and El Nido Palawan: 3-Day Summer in December
[fb_instant_article_ad_01]?