Nonito Donaire Wins Against Darchinyan Via TKO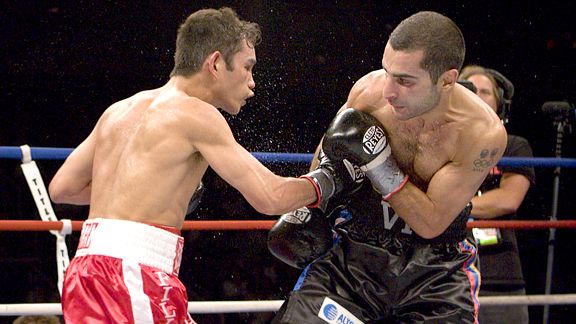 Today is Sunday. Today is the time to worship God. Also, today is a hugely wonderful day to be a Filipino! Why? Well, it's not just because Miss Philippines Ariella Arida won third runner-up in the Miss Universe 2013, but also because the Filipino boxer, Nonito "Filipino Flash" Donaire wins against former four-time champion Vic Darchinyan in their rematch this Sunday morning (RP time).  This is such a good afternoon, indeed! 
Many of our countrymen are actually shocked with Donaire's win. Truth to be told, Donaire was not doing such a great job of attacking and defending himself during the first seven rounds of the boxing fight. The Filipino pride and the Armenian-Australian asset were basically dancing equally – until Nonito Donaire hits Vic Darchinyan with a packing punch straight to his face and another hit to his head, thereafter. 
To add that last needed ingredient, Donaire serves a left hook which Vic Darchinyan unwillingly takes during the ninth round. 
Obviously, Darchinyan does not want to give up that easily. He stands up again and tries to regain his composure, but Donaire isn't about to let him succeed. The Filipino spirit, support and strength manage to come through as Donaire continues to attack. 
Ultimately, a technical knockout victory is proclaimed less than a minute left for the match's conclusion. 
Nonito Donaire wins, the Filipinos rejoice, and suddenly, everyone feels a little bit better – even for just a while. 
This fight is his 32nd win in 34 fights. Because of his recent win, Donaire is once again considered as one of the world's best pound-for-pound fighter. 
Congratulations, Mr. Filipino Flash! You are certainly a flash of inspiring light in today's dark and cloudy times. 
[fb_instant_article_ad_01]?