Katsu
Yakitori + Bar
Uh-oh! I've been a very, very bad girl. Father's day has been more than a week ago and all the hustle and bustle of my adolescent life has made me quite the bad pea in the family.
But it's never too late to make amends and by that I mean taking my dad out to dinner and feeding him the only thing he eats — Japanese.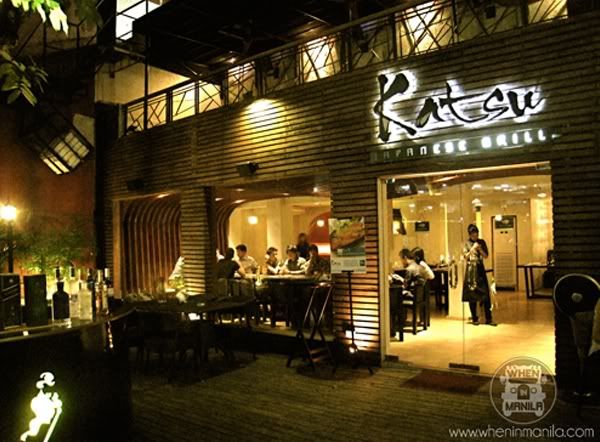 When in Manila, and craving for Sushi and Yakitori, forget your usual favorites and check out Katsu Japanese Grill.
Katsu is yet another brainchild of the Bar Craft Concept group that is marketed as a Japanese beer garden. If you're a lot like me and seeing the words sushi and beer automatically lit your eyes up, you'd definitely enjoy this place.
People who frequent Japanese restaurants would notice that the interiors keep a minimalistic template, which would often adopt fine lines in the architecture. But to my surprise, this quaint little place put a lot of attention to detail.
Stepping into the restaurant, you'd find yourself turning your head up a couple of degrees over, staring in awe at the wooden wave-like masterpiece in the ceiling.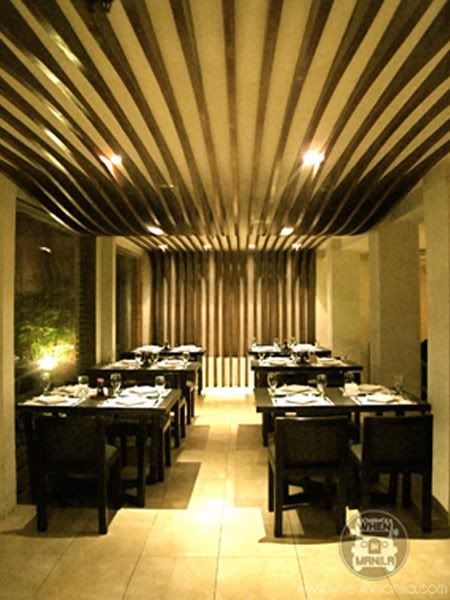 On the other side is a charming mural of a geisha creatively made to look like she's warming herself up in front of a fireplace — or something to that effect — which, by the way, I noticed just now.
Beyond the facade, you'll find the indoor bar — woohoo! And an isolated spot, perfect for those requiring a more intimate gathering.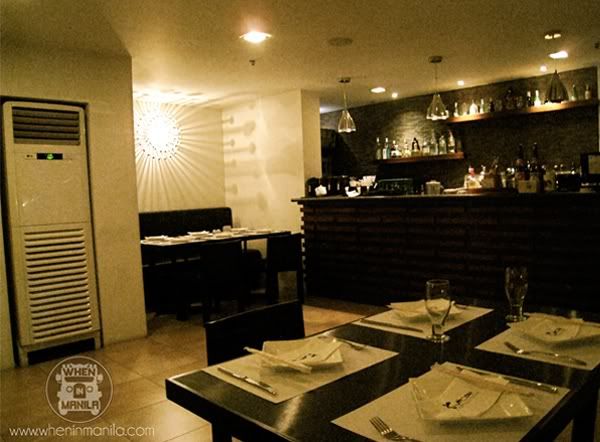 The  overall atmosphere was warm and engaging, visually stimulating, and fitting for a resto-bar.
So let's get to the good part.
First off, we were given potato chips to warm ourselves up for the feast ahead. These were really yummy and were complemented by the dip. It's definitely a good alternative to fries and your usual pika pika when drinking with friends.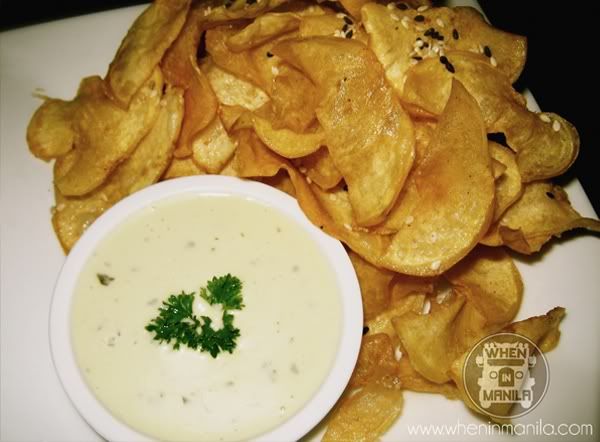 True enough, the dish was then followed by a selection of their signature cocktails. Though I'm not a huge fan of so-called lady drinks, I had to give them a try because they were all made with a blend of the ultimate Japanese drink — Sake.  
Sake Sangria was very intriguing. I have never seen apples in my drink. Especially ones infused with Shochu — a Japanese beverage conventionally distilled from barley or sweet potatoes. It's definitely something worth trying!
Now, I'm pretty sure you all have an idea of how the Samurai Mojito tasted like, just imagine it being a bit tougher and a bit less girly.
I'm not a huge fan of Lychee Breeze, though. I was expecting it to taste somehow like a coco lychee martini, the only cocktail I'd ever drink whole-heartedly, but instead it tasted like a cookie — A gingerbread cookie, to be exact. Probably 'çause it's got ginger! Duh. So if you're more of the adventurous type and your palate is not afraid of surprises, go ahead and order away!
But the star of the night was the Sake Sunrise, which seemed to be the most dinner friendly. It tasted like ordinary fruit juice — No trace of alcohol. Think Tequila Sunrise and Long Island Iced Tea. One mega Traidor. Meaning I had to slow down the intake, knowing I had a lot to consume.

Happy hour was interrupted by one of their best sellers, the Dragon roll, made of tempura, crabsticks, topped with unagi (eel) — Party in my mouth! Of all the different Maki and Sushi choices existing in different menus all over Manila, this you've got to try.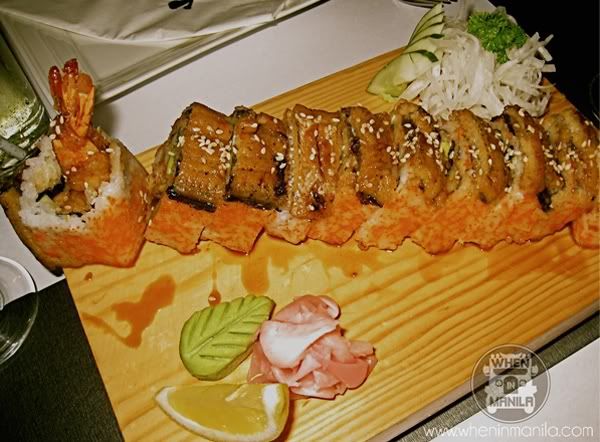 What I love about the dragon roll is the generous serving. I was with my dad and two of my brothers so just imagine how quickly it disappeared.
My brother was obviously happy for getting hold of the last piece.
And what's a Japanese grill without the grilling part? We had to try one of their famous Yakitori platters for ourselves. This is the chicken platter, which looks like a classier version of the Ihaw-Ihaw you see in the streets. You get a serving of different chicken parts including the thighs, wings, breast, and yes the boo-tay! They'll even throw in a few quail eggs to give you the ultimate street food experience off the streets!
No, I'm not saying the Yakitori platter levels with street food but I mean everybody loves street food in Manila, right? This just gives you the feel minus the safety hazards + 200% satisfaction– Japanese style. True story.
Lastly, we were given a dish that puts a twist to the commonly ordered Shrimp Tempura. Ebi Katsu is shrimp breaded and friend to a golden brown hue paired with delectable Tonkatsu-sesame sauce, and served with unlimited cabbage salad that is sweet and crisp.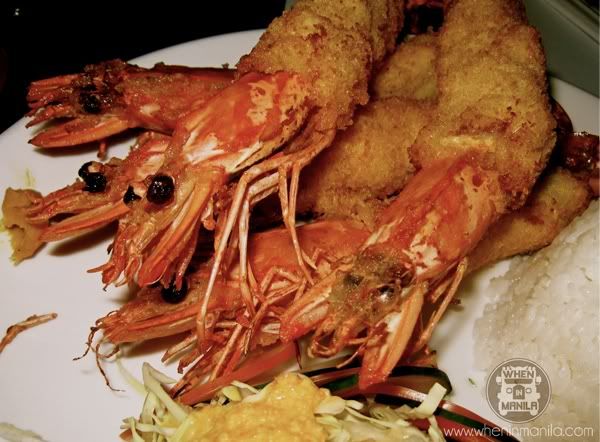 But as I had mentioned, I was in a table with three men. We had to order more!
Growing up, I'd often see my dad prepare Sashimi from a fresh catch. That's how hardcore we are when it comes to seafood and practically anything raw. Sashimi is a good indicator of the quality of food in Japanese restaurants. The freshness and the caliber of their sashimi will justify the steep price. We ordered two of the most common selections– Salmon and Tuna and they were superb!
Katsu has caught my attention a long time ago and I've been looking for an excuse to dine there. Luckily I was able to finally try it out with my family and my favorite dinner buddies.
When in Manila, and looking for the perfect place to enjoy Japanese cuisine, delicious drinks, and a few burps and laughs with loved ones, visit Katsu — the refreshing new Japanese grill right in the heart of the growing commercial district in the metro.                                
Unit E Fort Entertainment Center, 5th Avenue, corner 26th Street
Bonifacio Global City, Taguig
Tel. 846-1715 | 846-2649 | 552-21650
e-mail: barcraftconcept@ymail.com
Katsu Japanese Grill: Sake Cocktails and Yakitori Goodness at the Fort Strip
[fb_instant_article_ad_01]?