When In Manila, Cirque Mother Africa (CircusMama) came to town and were just amazing!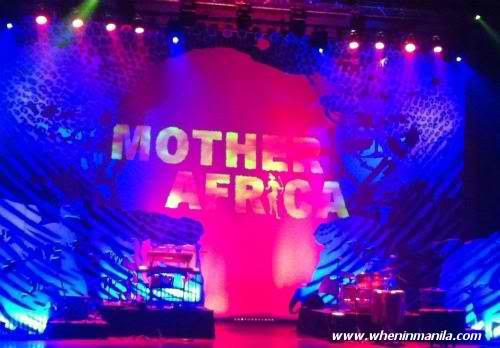 Cirque Mother (Circus Mama) Africa held five performances at the Newport Performing Arts Theater at Resorts World from April 19 – 22. All of the performances were completely mind-blowing, yet the show in it's entirety left me with a feeling like they didn't pull out all the stops. Coming in understanding that I wouldn't be watching your usual Cirque du Soleil show, I was a tad disappointed at how Circus Mama had no real flow, and no real rhyme or reason to the sequence of performers, except perhaps towards the end.
CircusMama is a two hour show with a short intermission that seems to be a hodgepodge of a variety show, acrobatic performances, as well as an African concert. There were parts of the show that I found dragged on a bit too long, and it was missing the death defying acts a circus is usually known for. I wasn't expecting anyone to be fitting their head into the mouth of a yawning lion, but I was hoping for something that would have gotten everyone's blood pumping.
A few of the performances I liked was the contortionist from Kenya doing the most flexible cartwheels I had ever seen, lighting a cigarette (and taking a puff) using his feet, as well fitting into steel rings the size of biscuit tins, bending it further than Beckham ever could. The Master of Balance from Tanzania balanced on top of a plank with four rolling cans stacked on top of one another, under a couple of stacked up chairs, which left us praying that he wouldn't fall and break his neck. He looked as scared as we felt, but that dude must be one awesome surfer! I liked the African rain dance performance, too, complete with African tribal masks! The bells and the guy that looked like a giant bumblebee dancing around was just mesmerizing to watch.
I'd have to say my favorite part of the entire show was the tap dancing-slash-stomp performance, where the comedian in the group would speak in Tagalog. Kudos for picking up the language so quick! "'Huwag mo hawakan ang sapatos ko! Mahal ito!" The performance then gave way to an African concert with everyone clapping along to Waka Waka (This Time for Africa) and enjoying the frenzied dancing on stage. The authentic African music was performed by the band InAfrica, so authentic in fact, that they even use a traditional African musical instrument, the Kora, which is a 21-string bridge-harp commonly used in West Africa.
When In Manila, despite the obvious disconnect between African and Filipino culture, Cirque Mother Africa is a show I'm glad I got the chance to catch it when they visited the Philippines. It's one of those once in a lifetime performances as they hardly do a Southeast Asian Tour, and I truly appreciate them giving us a sneak peek into the heart of Africa through her proud and passionate people.
Cirque Du Soleil Manila: Cirque Mother Africa at the Resorts World Theatre