Words by Cathlyn Mae Botor
After long years of struggling in school, you are finally bound to face what your parents, titos, and titas always bring up in every family occasion. Alongside questions on your current relationship status and the pressure they put on your college graduation, the next question that has always been brought to the table is, "Are you ready to face the real world?"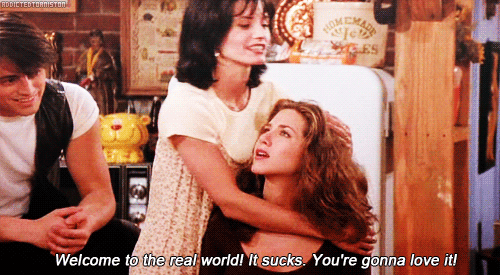 You don't think about this when you're trying to survive college, but only when do get past that do you realize there's a much bigger responsibility out here—adulting. But you know what? It's perfectly normal to feel a bit intimidated about that task. Just think, everyone you know has or will go through this daunting transition, so just remember this: you're going to be okay. 
Plus, to somehow help you begin, here are 6 basic adulting essentials you need to know!
6. Creating your Resume/CV
For you to be able to apply for your first job, you must first create your own resume and curriculum vitae. Preparing a CV will help you be ready for when a good opportunity comes your way, and you can just alter it a bit each time to fit the qualities of where you're applying. As for creating an effective CV, just research, and don't be afraid to ask help from someone with more experience. Make sure that you highlight what's relevant to the job you want to land.
5. Collecting your own set of government valid IDs
When do you officially know that you're an adult? When you are constantly asked for valid IDs. And by valid IDs, we mean government valid IDs. You'll need this as there are a lot of transactions, organizations, and even just establishments that will require you to validate your identity (and age) to avail of services or to enter their premises.  
Before applying for any government valid IDs, make sure to look at the websites of the designated government agencies. Most of the procedures are done online; therefore, application forms are also downloaded online. One of the easiest and fastest government valid IDs that you can have is a Postal ID.  Just bring your Birth Certificate and proof of residency or Barangay Clearance and the downloaded application form to the nearest postal office. Your Postal ID will be delivered to you within 15 working days in Metro Manila and 30 working days if you're from the provinces. Secondly, you can proceed to the nearest BIR (Bureau of Internal Revenue) branch near you and get your Tax Identification Number (TIN) for your tax record-keeping purposes. Meanwhile, the Unified Multi-Purpose ID or UMID serves as the mother of all government valid IDs. The catch here is that you have to be a contributing member of SSS (private sector) or GSIS (government employees) and contributing for at least a month. NBI clearance also comes in handy when applying for government valid IDs, so make sure that you bring it always with you. After a successful application, the UMID would then be shipped to your address after 30 days.
4. Applying for a passport and driver's license
If you're gonna get your own set of government valid IDs, you might as well consider applying for a passport and a driver's license, too. Both are also considered valid IDs. Plus, the great news is that the passport validity now counts for 10 years! You can always check DFA's website and pick a convenient time for your application appointment. 
Aside from passport, you might want to step up the adulting game and learn a very important life skill, which is to drive! Because in order for you to get that driver's license, you're going to need to take a practical exam. Also, go to the LTO's office early for a faster application process.
3. Paying for monthly bills
A.k.a utilities and don't forget your monthly taxes, SSS or GSIS, PhilHealth, PAG-IBIG and other government contributions.
This adulting thing starts to get really hard when you need to start paying for rent, internet, electricity, and water bill (to name a few) on your own. You're not living off allowances anymore, so you have to be extra careful when spending money on luxuries. You should know by now your top priorities which include paying for your monthly bills. Go and look for Bayad Centers situated in your area. But, for convenient transactions, you can avoid long lines of waiting through online banking or by using mobile payment apps.
2. Filing for loans
A time will come when you will probably have to file for loans, for example when doing a car loan, business loan, or house loan through the PAG-IBIG fund. But before you can do all these, first and foremost, you have to make sure that you have a fixed and stable income. Paying for debts, especially in big amounts like this, is a really huge obligation, so not only should you think twice before you do it, you should also have a long-term plan to make it work. Especially when interest rates nowadays are crazy. 
There are various avenues where you can file loan applications, depending on what you need. You can opt for having your own credit card, or you can also borrow from the bank. Meanwhile, you can also apply for loans in SSS/GSIS and PAG-IBIG after contributing regularly for at least two years.
1. Opening a savings account and insurance policy
As early as now, you should already begin saving up for the rainy days. Think of it this way: instead of becoming easily lured by payday promos and mall sales, you could've saved a lot of money already! It is important to know your priorities especially now that you're an adult. If you don't have enough courage to start saving, it might be helpful and encouraging for you to think about the thought of saving early and retiring earlier. I'll bet that you'll thank your younger self when you're retiring if you start securing your future as early now.
ALSO READ: Affordable P100 Insurance for Filipinos Available Online? Here's How You Can Get it
Have you accepted your adulting fate at this point already? Adulting can sure be a tough journey, but just keep calm and trust the process.
What do you think is the most relatable and applicable adulting essential in your life right now? Tell us in the comments section below!