Graduation season is a time of tears and joy. You part ways with an institution that has taught you lessons that will change your life forever. And you do it with the people you started with–or some do.
Not everyone has the chance to graduate with the people they began with. Whether it's a block-situation or just getting into the same college with friends, sometimes it feels disheartening to be delayed or have to repeat a subject or anything like that. It's so ingrained in us to believe that life is a race when it isn't.
So here are some of the most inspiring stories we heard from people who were delayed and are graduating late.
15. Don't stress!
can I just say na muntik na ko di makagraduate? dahil sa tax… that was my absolute lowest. i couldn't sleep properly for days, and cried over the phone when i called my friends. thoughts on not having to graduate with my friends raced into my head like electricity. my anxiety worsened those days that i would just lock myself in the room, just isolated myself from everyone. i was so scared to tell my parents but eventually i told my mom and she was understanding but my dad was quite annoyed at my situation, he seemed apathetic and that made it even worse. i strived to make that singko a tres kahit pano, it was our vacation na that time, waiting na lang sa grad. my friends were relaxing while i was still in school nangangarag just to pass this one subject. and nagbunga naman.. after that i was so happy.. thankful that they gave me another chance. and now here I am working from 9 to 5 with a job that I dearly love. and I look back and remember this quote by Kelly Clarkson "God will never give you anything you can't handle, so don't stress"
14. Chin up!
I didn't graduate on time, was supposed to graduate last year. But hoping to graduate this sem!

I wasn't really devastated about it. I already knew I wouldn't graduate on time on my 3rd year. It was somehow a personal choice. I had too much extra curricular that I was really enjoying I didn't want to give them up. It took a toll on one major subject (which I later made the choice to give up on), but no regrets. My 4th year was my best year ever; I accomplished so much I never felt like I was wasting even a single second the whole time.

Now on my fifth year with only a few units left, I started working while still in school. I discovered a lot about myself, including the work I don't want to do, where I excel, and what I can imagine myself doing for a long time. So I think, in that one aspect, I'm even ahead of my blockmates who graduated on time and still feel lost a year after getting their degrees.
13. What if?
Didn't graduate on time and I don't think I ever will. I took up Computer Science and by the end of my 6th year (even though it's ideally only 4 years), I've completed all my units except for the thesis.

Now I don't have the motivation to continue since I don't see the point in finishing it anymore because I shifted careers (I am now working as a writer! Yey). Although it would still be nice to be able to wear the sablay :( guess it will always be one of my frustrations.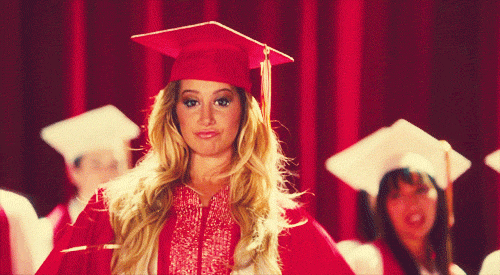 12. Mental health >>
I DIDNT GRADUATE ON TIME!!! (why am i so excited lol im not proud tho?) Took an extra semester. I was taking maximum 12 units per semester since senior year (which is actual academic standard in the US! Our 18 unit standard here in the PH is so unhealthy!) I couldn't handle the load and I was suffering bc the education system values metrics over performance lol.

I took an extra summer finishing ONE PAPER. It wasn't even a major requirement. College burnt me out. All those exams, research papers, orals, thesis writing. I always felt like I had to prove myself better each week. Schools that drive on excellence and achievement can be motivational until the standards get so high that it becomes mentally unhealthy. My therapist was actually a professor of mine and she actually recommended an LOA (I didn't. I wanted to see it thru bc I'm still an achiever lol).

TL;DR: MENTAL HEALTH IS MORE IMPORTANT THAN GRADES. Seriously, never let your academics get in the way of your health and your education. Extend if ur life depends on it bc people literally kill themselves trying to achieve under so much pressure. Lighten the load if you can afford it. Best decision that saved my life.
11. Don't give up!
I cried when I did not graduate on time. I went to CEU for my first year of college. I took up Masscom. But because of monetary reasons I had to stop. I had to be the breadwinner of our family. My father died before I was even born. It was just my mom who took care of me, fed me, clothe me, and put me through school.

I worked in the call center business when I was just 17. When I was 21 I put myself through college again after 2 years at JRU. This time taking up BA in English. But because of monetary reasons I had to stop, and focus on work.

Fastforward to 2014, I got married, and had a baby. I never thought I'd be studying again. But because of the free college law, I am able to. I got accepted to the University of The Philippines Open University.

It has always been my dream to study at UP. I was supposed to study at UP los Banos or UP Baguio when I was a senior high graduate, but we did not have money for my fare, or even for my board and lodging.

I still tear up sometimes when I think of other people who have already graduated and living their dreams and dream job. But I know that it is not my season yet. I am just trying to take things one step at a time. What's important is that I've never given up.
10. Don't lose yourself
I didn't graduate on time because I couldn't bring myself to complete my thesis. As an essayist, I wasn't able to isolate the subject I wanted to focus on because I didn't even know what I wanted to write about. Despite everything I've experienced in life, I always thought to myself 'that's not worth sharing or nobody would care about that since others probably had it worst' My thesis advisor told me that I cared too much about others to the point that I'm no longer aware about myself. Thinking about it now, he was so right.

I only needed to retake the class to gain my diploma. Alas, someone I considered to be a brother passed that very summer semester which resulted to me completely shutting down and purposely bombing the subject.

I contemplated enrolling to a different school thinking I couldn't possibly salvage my grades needed to graduate the school's standards.

Around the the second semester, I was contacted by the school. I was told that I had one more chance to graduate provided that I took a full semester's worth of units along with my thesis subject and that I undergo guidance counseling.

It was discovered that I suffered from mild anxiety. I had to find ways to cope with the feelings of worthlessness and to accept that caring for myself first does not make me in anyway selfish.

I learned that while it is important to be a person for others, I shouldn't lose myself in the process.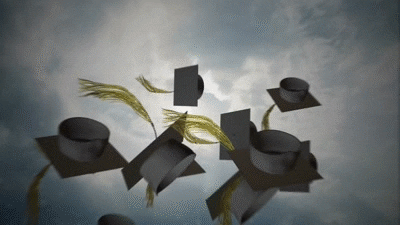 9. "Things will happen in their own time"
I extended an extra year because I took an LOA to spend a term in Europe with my family. I never felt bad because I got to do so much with my extra time (interning at WIM, being a student RA, and getting back into Debate). I didn't end up attending my grad rites because none of my close friends were there but other than that there wasn't much of a loss.

Some things I learned:
– Life is about trade-off's. You're constantly put in positions that ask you to choose between options. Only you can say what's best for you, even (or especially) when that choice goes against the grain.
– Things will happen in their own time. Stressing about the months and minutes won't really make a difference. In fact, they'll just hinder you from making the most of it.
8. At your own pace!
I failed out of DLSU and now transferred to CSB. The reason for the failed out was that I wasn't happy with my course anymore and the environment kinda became toxic in a way for me. I overachieved and took on a double degree and in result, failed out. I wanted to do something that my sisters and cousins haven't done, which was finishing a double degree. I'm very competitive and I dont know why hahaha but yeah, it took a toll on me not being able to motivate myself or get the drive to do great. However, when I got kicked out, I didnt feel anything towards it because I wanted to leave and take up film in CSB. So now, I'm studying the course that I really want and I was given this opportunity to redeem myself. Its just goes to show that you should really pursue what you want and what you are passionate about. College is not a race, we all have our different pace.
7. Learning over graduating on time
Im not graduating on time!!! I was supposed to graduate this coming August, but given that I'm a semester delayed and graduation rites in UA&P is annually commenced, I'm graduating next year August instead.

I got delayed because:
1) I failed majority of my first year subjects because I didnt expect the readings and workload of UA&P (they are living up to their other name which is "University of Abundant Papers"), plus family problems got the best of me. As a really emotional person, I don't like it when people around me fight, most especially if those people are my family members or relatives. I got kicked out of UA&P tbh, but they reconsidered me because I appealed.

2) It's sad that I am not even using this as another place to blame on for my shortcomings. I have re-taken (and aced) most of the subjects that I failed back in 1st year. However, the enlistment process in UA&P last AY 2017 – 2018 was HELL. 11am na di pa ko makapasok, when online enlistment started 9am. This resulted to me failing to get the timeslot of the prof I wanted to get, prompting me to take one less subject than my usual 7 subjects per semester.

For the second reason, people may say "ang arte mo naman namimili ka pa ng prof." I'm sorry, pero I prioritize learning than graduating on time. I'd rather not spend 10k on a subject under a prof that either has a toxic class environment, or does not teach anything related to the subject matter. And in that school year, only the toxic profs were left in the subject I was supposed to take. I didnt go to school to graduate on time. I went there to learn.

There were some people in UA&P who asked me why did I opt to get delayed rather than graduate on time. I said "I wanna learn my remaining subjects here in the university not just because I wanna graduate, but because I wanna bring it with me to the workforce one day. I'd rather learn things in my own pace and ways, at least I know my time as a college student did not go to waste."

I have to admit, I get jealous every time I see some of my batchmates' (whether from Poveda or from other schools) grad dps on my news feed. It makes me think at times that I am not at par with them. Even back in the time when I got the letter from UA&P saying I cannot enroll anymore, I kept telling myself that I can overcome it, despite my will on the brink of giving up. But that experience definitely made a big impact on me right now. Despite me not graduating on time, I am still very thankful because UA&P gave me a second chance, and my decision to get delayed has given me the opportunity to maximized te remaining time I have left in the university and to build healthier relationships, gain new experiences, a healther mindset, and a better version of myself. (I HAVENT FAILED A SINGLE MAJOR YET WAHUUUU)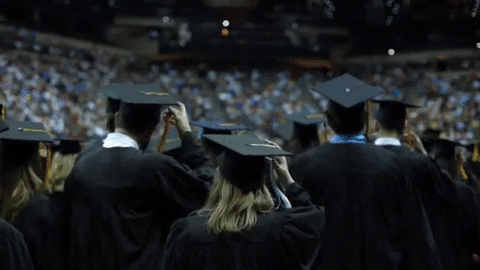 6. 2 years "late"
So I graduated 2 years later after my high school batchmates, and honestly? At first I felt left out because I was behind, like I lagged behind them. But apparently I wasn't the only one who graduated late!! But then, being in college gave me so much insight, so much heartbreak, so much reflection, and even regrets, but I wouldn't want it either way. Sometimes I want to go back and take another course, but I'm happy on the path I took and I hope that my journey won't end there.
5. No regrets
I didn't graduate on time because I was on LOA during my senior year. Nakakalungkot pero masaya pa rin ako kasi noong bumalik na ako, I saw studying in a different perspective after being away from it.

Mas na appreciate ko siya. Mas sinulit ko ang bawat oras na nakakapag aral ako. Mas kinilala ko ang sarili ko, mga kaklase ko, at mga underclassmen na naging mga kaibigan ko.

I cherished the bond with the batchmates who were still there, either getting units for masters or completing their second degree.

Malungkot, masaya, hindi ako nagsisi. I would do it again, to meet the friends I wouldn't ever know if I graduated on time, the friends I wouldn't be able to share my life with if I already finished school that time.

Gusto ko rin magpasalamat sa kanila. Kasi tinanggap nila ako, kinilala nila ako, at nakasama ko sila. Masaya, nakakatuwa.
4. Move forward
I was supposed to graduate at 2016 but finished at 2018. It was all fine and good since I shifted from Computer Engineering to Creative Writing and I was able to adjust well enough to keep up with the pace but on late 2015 and 2016, I got really demotivated with how my parents were pressuring me to finish already because of financial reasons. We were in a lot of debt back then so I was thinking of stopping and transferring to a cheaper university. I was really undecided, torn, and confused so much so that my studies suffered. By end of the school year of 2016, I was about to be kicked out.

It took me a month to pick myself up and actually do something about it. I recognized what went wrong and took actions in order to improve myself. I figured that I was lacking a routine so I applied to work as an Student Assistant for Ateneo Alumni Scholars Association. While working as an SA, for 9AM-4PM everyday, I talked to OAA on what I should do and what steps I should take. For the whole year of 2016-2017, I spent my time working as an SA but when I stopped to study, I completely paid out my loans, signed a contract with ADAA for Probation. May 26, 2018, I graduated. June 13, 2018, I was on my first job with Philippine Sports Commission.

My main takeaway are: 1. Do not be afraid to ask for help, to consult, to ask for advice. 2. Do not be afraid to be delayed or whatsover. We all have our own schedule to follow, graduating delayed is still graduating. As long as you yourself know that you are moving forward, thats enough.
3. Learning even more
I had to shift out of my original course and because of that I was delayed in units for my new course. I could've overloaded but I opted not to because this would just be more stressful and I wasn't in a rush anyway. My load was much lighter since I decided to spread out my units and I had time to focus on my org.

For my last year, I only had 2 terms left in school but to have a position in an org you needed 3. Since I love my org so much, I ended up extending my stay in school I was chosen to be one of the heads. I learned so much more in that delay/extension in school and I wouldn't have learned all that if I decided to graduate on time.

Overall though, the rejection I faced was actually just a redirection. I don't think I would have been one of the heads of my org if I didn't experience having to shift courses and wouldn't have learned that much. I'm happy with how things turned out and I ended up even liking my (shifted) course more!!! Sometimes things don't always go as planned because there's something greater in store for you hehe.
2. Live life
Life will always give you lemons and college was one of em. I'm currently on my 4th year in Industrial Engineering and delayed for 1-2 years. Mainly what happened was I needed the rest from engineering and from a lot of things in general that I had to take a leave of absence for 2 terms. Engineering and other courses for sure would be mentally and physically draining and I just had to take a break. I'm happy that I took a break though cause I know I'll be 100% again once I come back. I considered shifting and all but I know that I never fell out of love from engineering. Mental health will always be the priority, everyone should know that. No rush, live life and be happy hehe
1. Much to learn
On the day the upcat forms were due, my mother decided to take it upon herself to choose my course for me (she wanted me to be an engineer, i wanted to be in communications). Fast forward to sophomore year, i wasn't learning anything in class and none of it made sense but they said as long as i studied hard or rather stare at my notes long enough they eventually will. Not sure if i was actually lazy or stupid but one thing is for sure, i wasn't enjoying the education that was being handed to me. I shifted to broadcomm after my sophomore year and… everything started making sense again. Contrary to popular belief, comm isn't easy. BUT i believe that if you're in the right course, going to class shouldn't be such a struggle. Just like how i had classmates in engineering who breezed through the physics and ES classes because they felt like they belonged there.

I was supposed to graduate on my 5th year of college but i also had a break after my first year in my second course. I was sent to canada for 7 months. This was when i lost all hope for graduating 'on time' with the people i shifted with and my engineering batchmates, and frankly stopped caring about my timeline. I wouldn't have traded my time in canada for graduating with my peers because my first time here taught me so much and made moving here for good much easier. My takeaway from this particular experience is that everyone eventually needs to try to get out of their comfort zone – to remove themselves from the home they grew up in, make new peers somewhere else, discover a new culture, anything and everything that could expand their bubble. There is no growth in comfort.

After failing 4 out of 6 classes my sophomore year in engg, i still graduated cum laude in broadcomm and that is just the way life goes. The pressure put on "graduating on time" with everyone else is insane and honestly impractical. Being delayed is not something to be ashamed about. I have made literally hundreds of friends in all corners of the university, Manila, and the rest of the world because i was delayed and i will never trade that for anything in the world. I carried the title of "college student" for 6 years and experienced way more than i bargained for. I have close friends way older than me who were delayed themselves when i was a freshman and i also have friends whom i treat as my younger siblings because ~i have evolved into a tander myself.

College wasn't all that easy and i am happy to be out with a degree under my belt but i also regret nothing. On the contrary, i would do it all again because it was such a transformative period in my life and i know myself more now because of it. College is a great environment to explore, fuck up along the way, learn from mistakes, fuck up again, perhaps gain some wisdom, before being thrusted out into the harsh and scary world of adulthood where fucking up isn't so cute anymore.

TLDR i love college, happy to be done, learned a lot, and dont regret staying 6 years

One more thing. Anybody who thinks high school was still the highlight of his/her life … isn't doing life right at all haha
Which story is your favorite? Let us know!